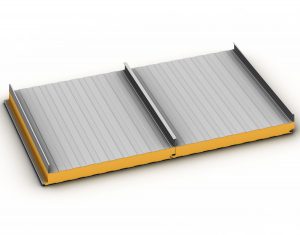 Waller, Texas, August 9, 2016 – Green Span Profiles has received UL 580 Class 90 Approval for wind uplift for its RidgeLine insulated metal roofing panel.
UL 580 is the Standard for Tests for Uplift Resistance of Roof Assemblies. Roof assemblies are tested for their ability to resist both external and internal pressures associated with high velocity winds.
RidgeLine is a patented 2-3/8-inch tall mechanically seamed roofing panel covering 42 inches, with thickness options of 2.5, 3, 4, 5 and 6 inches. The core is a continuously poured-in-place, polyisocyanurate insulating foam. Exterior and interior metal panels are available in 26-, 24- and 22-gauge Galvalume steel. Exterior finish is standard gloss PVDF coating. RidgeLine panels can be used on slopes as low as 1/2:12 and are available in standard lengths measuring 12 to 53 feet, with custom lengths available on demand. Green Span Profile's UL construction number is 698
"This is great news for Green Span Profiles, our installers and their customers," says Brian N. Jaks, P.E., Vice President of Sales and Marketing at Green Span Profiles. "By meeting UL 580 Class 90, RidgeLine meets the standards of the International Building Code for installation in high velocity wind areas. Further, UL certification adds yet another level of scrutiny to our manufacturing process. Underwriter's Laboratories requires independent, quarterly QC audits to maintain certification."
Among the unique attributes of RidgeLine:
Single component installation
Slides together; no rolling or lifting to engage the sidelap
Continuous weathertight seal at the sidelap means no interruptions at the clips
Factory-applied sealant in the batten cap
Bi-directional mechanical seaming equipment
Proprietary shoulder fastener, co-developed with Atlas Bolt & Screw, to prevent over-driving
Nominal R-8 per inch of insulation thickness; R-20 for 2.5-inch panel
Green Span Profiles
Green Span Profiles specializes in the manufacture of insulated metal panels (IMPs) and is headquartered northwest of Houston in Waller, Texas. The company's 70,000-square-foot manufacturing facility was constructed in 2011 using the most modern technology available worldwide. Visit www.greenspanprofiles.com.