While the COVID-19 pandemic has put many sectors of the global economy in a deep freeze, the cold storage market has been heating up thanks to a variety of factors from a rising online demand for direct-to-consumer perishables to the refrigeration needs of the coronavirus vaccines.
"One of the interesting trends brought about by the pandemic is the skyrocketing demand for cold storage warehouses," writes Joanna R. Turpin in The Air Conditioning, Heating and Refrigeration News.
Global Cold Storage Construction Market Booming
Emergen Research reported at the start of the year that the global cold storage construction market, valued at $6.97 billion in 2019, was expected to reach $18.59 billion by 2027 with a rapid 13.8 percent annual growth.
"Market revenue growth is primarily driven by increasing online grocery sales in developed and developing economies and rising preference for online shopping [due to] the pandemic and expanding e-commerce channels," said the Emergen Research market synopsis.
A combination of this new demand and the need to retrofit aging infrastructure is driving cold storage construction.
"Aging cold storage facilities and rapid growth of e-commerce that now includes frozen and refrigerated foods are primarily driving the increase around the country, but particularly in urban areas such as Denver, Houston, Phoenix, and Dallas," concluded Turpin.
These 3 Industries Have Growing Cold Storage Demand
There are many industries that are increasing their appetite for cold storage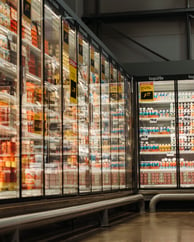 demand, but these three stand out:
Groceries and Online Perishable Food Suppliers
Grocery stores have always depended on distribution centers, warehousing, and trucking fleets to manage the proper temperature of their perishable items, but rising demand during the pandemic is creating unprecedented demand for expanded cold storage facilities.
Emergen Research highlighted the following in their cold storage market report:
"Rapid growth in online grocery sales has also resulted in the need to expand cold storage facilities and a shift towards larger and more industrial-type cold storage facilities."
"Shift in cold storage operations by grocers is driving the need for increasing deployment of larger cold storage options in order to facilitate better delivery and supply to end-users."
"Rising demand for processed and fresh food products through online channels is projected to continue to drive market growth."
Hospitals, Clinics and Pharmacies
The global cold chain's life-saving efforts to support the rollout of the COVID-19 vaccines is leading to investment and expansion of cold storage across the world.
While the normal seasonal flu vaccine requires storage of approximately 39 degrees, the Moderna and AstraZeneca vaccines need to be shipped and stored long-term at minus-4 degrees and the Pfizer vaccine requires an ultra-cold minus-94 degrees.
Demand for the vaccines, the necessary cold storage to maintain its integrity, have been increasing with Pfizer saying in July it expects "vaccinations against coronavirus illnesses to last at least several years, sharpening a long-term forecast for its COVID-19 vaccine."
Strengthening that analysis is that the U.S. Food and Drug administration fully approved the Pfizer vaccine on Aug. 23, 2021, with other vaccine maker full approval sure to follow.
In addition, adding to the cold storage demand for vaccines is the Biden administration's decision to start offering COVID-19 booster shots on Sept. 20.
Transportation and Logistics
The pandemic's digital shift has put pressure on the transportation and logistics industry to add new cold storage warehouse space to handle the demand for:
Perishable Foods
Processed Foods
Biopharmaceutical Products
Flowers and Plants
Chemicals
While refrigerated trailers and other transportation methods play a key role, products need to be stored in cold storage warehouses or distribution centers before heading out to consumers.
Emergen in its cold storage market report said: "The increasing number of cold storage constructions near ports and warehouses in order to accommodate growing imports and exports of perishables has also been driving market growth, and this trend is expected to continue during the forecast period."
Retailers meeting a rising consumer demand for these "touchless transactions" and the ability to deliver fresh to the doorstep is challenging transportation and logistics.
John Collins PE, industrial sales manager-east at Zero Zone Inc. Systems told The Air Conditioning, Heating and Refrigeration News: "Retailers are responding to this demand and capitalizing on the opportunity to increase revenue and profit by delivering what their customers see as higher value product for which they are willing to pay more. To provide these products, producers and retailers need a more extensive and robust cold chain to support the consumer demand. This shift in expectations and the demand for ever more options in the choices we have as consumers is driving changes and growth in the entire cold chain."
Contact Green Span Profiles today to find out how our insulated metal panels can serve your low temperature and cold storage facility needs.