The construction industry, like all sectors of the American economy, suffered the effects of the COVID-19 pandemic, especially in the spring in the early days of the public health crisis when some construction sites were shut down.
Recent signs, however, show the resilience of the construction industry and some even think that the industry can emerge from COVID-19 stronger.
Around the country in the last month we have seen:
In the Utah housing market, historic low interest rates and COVID-19, have created a bidding war, leading many to new construction
Hotel construction pipeline stood at 5,582 projects and 687,801 rooms in the second quarter, down only 1% from the same period a year ago, according to Lodging Econometrics. Not only that but hotel renovations and conversions remained robust.
Construction industry is evolving due to COVID-19 such as producing shipping container classrooms and prefab bathrooms for schools.
Perhaps the best news was reported on July 30 that after sharp declines in April and May, North Texas not only saw nonresidential construction rebound but Dodge Data & Analytics reported that the Dallas-Fort Worth area was up 10 percent from June 2019 levels.
That same report said that construction starts nationwide were up six percent in June.
For the first half of the year, Dallas-Fort Worth was second nationally with $11.4 billion in construction starts, trailing only New York City at $17.1 billion. Houston was third at $10.5 billion followed by Phoenix ($8.4 billion) and Washington, D.C. ($6.8 billion).
Of course, with the second quarter economic news out of Washington this week, it could be some time before the economy and the construction industry are back to normal.
Depending on how long a vaccine takes for COVID-19, the construction industry may need to brace for a new normal moving forward.
Industry Experts: Seven Actions to Prepare for the New Normal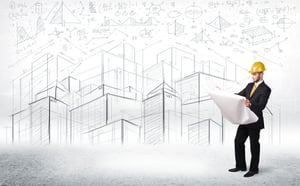 Global industry leaders at McKinsey Engineering, Construction and Building Materials Practice released a white paper in May that points the way to construction emerging from COVID-19 stronger.
The paper suggests that there are seven actions that construction leaders can take now to prepare for what they call the "next normal":
Accelerate rollout and adoption of digitization. Remote collaborations, fulfillment and e-commerce models must be addressed.

Invest in the culture and skills needed to operate in the next normal. This is the time for training on new tools and technologies.
Build a control tower across the portfolio. Establish a central monitoring function that can ID and respond to resource-allocation needs across the portfolio.
Bolster supply-chain resilience. They see the possibility of greater vertical integration and consolidation of the value chain.
Redeploy capital and resources. Now could be the time for long-overdue moves.
Identify opportunities to shift work off-site. A bonus is that off-site construction could help sustainability by reducing materials waste, noise, and air dust as well as enabling circular building systems.
Get closer to customers. It is important to track the preference shifts of customers and respond to their needs.
The report says, "Organizations must think through the moves they can make today to come out ahead later."
Green Span Profiles markets insulated metal panels and accessories primarily to thermal contractors operating in the North American low-temp/cold-storage market. Contact us today to see how our diverse team of specialists in all areas of business, engineering and technical services can help your construction business.