The construction industry, especially on the residential side, is optimistic heading into 2021 despite a scarcity of building materials due to the COVID-19 pandemic.
A combination of historic-low mortgage rates and record-breaking home buying has builder confidence at an all-time high with the National Association of Home Builders "builder confidence" index hitting 90, the highest score since the survey started in 1985.
A year ago, the index was at 72, but the COVID-19 pandemic has created a surge in home-buying, especially in the suburbs and smaller towns and cities as Americans look for space and embrace the work from home concept during the continuing coronavirus crisis.
Dodge Data & Analytics' 2021 Construction Outlook predicts a mild rebound in 2021 after a disappointing 2020.
"The COVID-19 pandemic and recession has had a profound impact on the U.S. economy, leading to a deep drop off in construction starts in the first half of 2020," said Richard Branch, Chief Economist for Dodge Data & Analytics. "While the recovery is underway, the road to full recovery will be long and fraught with potential potholes. After losing an estimated 14 percent in 2020 to $738 billion, total construction starts will regain just 4 percent in 2021."
Warehouses and Data Centers will Drive Commercial Sector
While commercial building is projected to lag residential in 2021, the sector will be driven by an e-commerce demand for warehouses and data centers.
The Dodge Data & Analytics' 2021 Construction Outlook thinks that "warehouse construction will be the clear winner as e-commerce giants continue to build out their logistics infrastructure. Office starts will also increase due to rising demand for data centers (included in the office category) as well as renovations to existing space. Retail and hotel activity will languish."
Associated Builders and Contractors' chief economist Anirban Basu agrees that warehouse, data center and other Class B office space will be the bright spots in 2021 but he also warns in his 2021 economic outlook in Construction Executive magazine about the possibility of a construction sector recession if the current pandemic surge leads to another shutdown.
"Another recession may be on the horizon … Another shutdown would compromise the economy's ability to produce (supply side), presumably leading to another round of mass layoffs, job loss, crumbling consumer confidence, corporate bankruptcies, and other negative outcomes. If the first recession is any indication, the next one will be sharp and short," wrote Basu.
Commercial Contractors Face Building Materials Shortage
The U.S. Chamber of Commerce Commercial Construction Index for the 2020 Q4 found good news and bad news.
On the positive front, the overall index rose three points, from 57 in Q3 to 60, with all three key indicators on the rise:
Contractors' confidence in new business opportunities over the next year rose from 56 to 57

Revenue expectations rose from 48 to 52

Backlog rose from 68 to 70
Despite the gains, the overall index is still 14 points below pre-pandemic when it was 74 in 2020 Q1.
On the negative front, 41 percent of contractors saying that "less availability of building products and materials is a severe consequence of the pandemic", up from 15 percent in Q3.
Among the findings:
71 percent of contractors face at least one material shortage, up from 54 percent

Lumber is the scarcest material with 31 percent of contractors reporting a shortage, up from 20 percent.

89 percent of contractors say the lack of building materials is having a "moderate to high level of impact on their business", up from 75 percent.
"The pandemic has exacerbated issues contractors were already facing in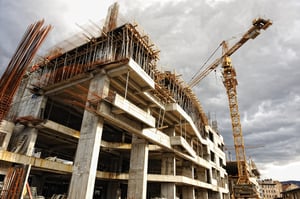 availability and cost of materials from tariffs and a shortage of skilled workers," said U.S. Chamber of Commerce Executive Vice President and Chief Policy Officer Neil Bradley. "But there's reason for optimism. More than one in three contractors plan to hire more workers in the next six months, and most see sufficient new business in the coming year."
Other takeaways from the U.S. Chamber of Commerce report:
A shortage of skilled labor is creating challenges with 83 percent finding it moderate to difficult to hire skilled workers

83 percent of contractors are experiencing project delays due to COVID-19.

Worker health and safety remains a top concern for 64 percent followed by project shutdowns/delays (53 percent), and less availability of building products and materials (4 41 percent).
"The industry is a positive indicator of where the rest of the economy is going, but it's likely confidence won't fully return until companies and workers have the confidence to get back to work safely," Bradley said.