When it comes to the return on investment of putting a metal roof on your home or business we are reminded of the old commercial, "you can pay me now, or you can pay me later".
The "pay me now" aspect is that metal roofs vs. traditional asphalt shingle roofs are more expensive to install with HomeGuide.com estimating residential "metal roof installation costs $6 to $12 per square foot installed vs. an asphalt shingle roof which costs $3 to $7 per square foot installed."
The "pay me later" aspect is that metal roofs can be a better return on your investment in the long run because they:
Last longer than shingle roofs

Require less maintenance and repair

Survive extreme weather better

Lower your cooling bill

Can be recycled
As HomeGuide puts it: "The long-term investment return of metal roofing over the quick to be replaced asphalt roof is highly preferred." And the ROI on metal roofing may even be greater on commercial projects.
Chuck Howard, PE, president of Metal Roofing Consultants, told Metal Architecture that municipalities and school districts are finding out they can install a metal roof at almost the same initial cost as a flat roof.
Howard said: "In new construction, I think we won that battle several years ago. You can put a metal roof on for the same or less price than you can a flat roof if they'll truly analyze it. Because we are eliminating the deck and insulation is cheaper. There's not a difference with commercial."
Metal Roofs: Built to Last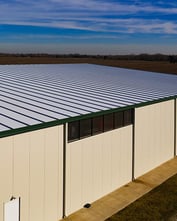 A factor in calculating ROI is how long you will own the structure and will the roof last long enough for you to get value out of the initial investment.
Metal roofs can last approximately 60 years with little maintenance and an asphalt shingle roof will need to be replaced anywhere from one to three times in that span. For many homeowners and business owners, installing a metal roof will be the last roof they have to install.
This durability is one reason that metal roofing is on the rise, accounting for 13 percent of residential re-roofing in the US, according to research by FW Dodge.
Piece of Mind in Extreme Weather
It is tough to quantify "piece of mind" when it comes to ROI but in an age of extreme weather, from a record number of storms in 2020 to deadly wildfires, metal roofs provide protection from the elements.
According to HomeGuide and other industry experts some metal roofs can withstand winds up to 160 miles per hour. Asphalt shingle roofs can be rated for winds between 90 and 110 miles per hour, but loose and damaged shingles can occur at just 50 miles per hour.
When it comes to wildfires, metal roofing cannot be beat as it is fire resistant while shingle roofs are rated Class A fire resistance for up to two hours.
Metal Roofing Saves You Dollars Year In, Year Out
Metal roofs can save owners money each year in several ways:
According to FIXR

a metal roof can save you up to 40 percent on cooling costs as the metal reflects the sun away from the home, keeping it cooler. Asphalt shingle roofs tend to absorb heat, which can drive up electric bills, especially in warmer climates.

Metal roofs require little maintenance and need to be repaired far less frequently than shingle roofs, where repairs to flashing, shingles and small leak patches can run between $400 and $1,000.

Insurance companies are willing to reduce your premiums if you have a metal roof.

State Farm, for example, lists 26 states

where certain types of metal roofs "may qualify for significant premium discounts."
Good for the Environment
Metal roofs are friendly to the environment as some are made with recycled material and all metal roofs are recyclable.
"While it's impossible to know what the year may hold, we are confident residential metal roofing will continue to experience strong demand as U.S. and Canadian homeowners become more familiar with its benefits, especially in light of climate extremes, heightened environmental awareness and resilient home trends," said Renee Ramey, executive director of the Metal Roofing Alliance.
However, this typical lifespan can be extended farther, depending on the roof type used. And that in itself becomes the payback or return on investment when considering metal roofs.
About Green Span Profiles
Though Green Span Profiles markets insulated metal panels (IMPs) and accessories primarily to low-temp suppliers, our products are also often utilized on commercial/industrial and architectural IMP projects. All of our wall panel profiles are available in 2" thickness, heavier gauge (24 and 22-ga.) and special colors. Our patented roof panel profile, RidgeLine, is second to none with regard to speed-of-install and weather-tightness. For the aforementioned segments, Green Span goes to market through independent selling units and private-label companies.
We encourage end users, architects and general contractors to contact us directly for help specifying our products.