Builders commonly use insulated panels for an array of projects ranging from residential to commercial applications. The most common options are known as structural insulated panels (SIPs) and insulated metal panels (IMPs). While both products provide the bulk of wall assembly components and insulation, they differ in how they are designed and function. Here, we'll talk about the variances between SIPs and IMPs and what the best uses for each amid construction are.
The Pros of Structural Insulated Panels
Structural insulated panes are most typically utilized for light commercial and residential applications. Steel SIPs are crafted from high-quality recycled materials, and the metal can be recycled again post-use making them very environmentally friendly.
SIPs are very durable and are far lighter than other panel types, meaning they don't need a crane for installation. Their resilience allows them to be mold, rot and termite resistant and structural insulated wall panels create an effective noise barrier.
Steel-skinned SIPs provide a tight air envelope for optimal energy-efficiency up to 15 times more effective than traditional construction methods. They often require the addition of an energy recovery ventilator or a heating recovery ventilator to maintain a fresh air supply. However, the results are generally better indoor air quality.
What are Insulated Metal Panels?
Insulated metal panels are functional roof and exterior wall panels that feature steel skins that surround a highly insulating foam core. IMPs are the most common type of insulated panels in use today for a number of reasons.
They can incorporate well with several types of substrates such as aluminum coated steel, galvanized steel and aluminum on its own. This type of versatility makes the use of IMPs a top choice, and the fact that they are easy to maintain makes them more appealing for construction applications.
IMPs are not as resilient as SIPs, but they can withstand strong winds, heavy snowfall, and ice dams on roofing applications thanks to their optimal thermal properties. Another perk to IMPs is that they can work with a variety of shapes in architectural design and install fast and easy.
The speed of installation is the result of the number of steps required during the process. Insulated metal panels have the ability to cover seven key steps with one material including:
Framing
Insulation
Wrapping
Vapor Barrier
Sheathing
Siding
Interior Finish
Fast installation expedites the process, saving on labor costs while getting operations started faster.
Choosing Between Using SIPs and IMPs for Your Next Project
Even though the common benefits are clear, these two insulated panel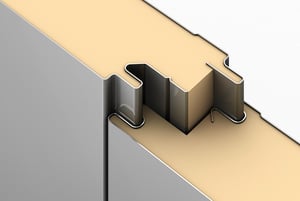 systems work best for specific applications. Let's break down the bottom line here.
Steel insulated panels are best for residential and light commercial installations of wood framing, but can be used with steel structures as well.
Insulated metal panels allow for a great bit of architectural design features including size, width capacities, curves, formations, cornel panel shapes, and end folds within their structural design vs. SIPs.
For large-scale construction efforts, IMPs offer an advantage for high-end applications such as those involving multi-story projects.
IMPs provide superior protection for structures subject to excessive moisture, dirt or where potential sanitary hazards might be posed.
Let Green Span Profiles Assist With Your Next Construction Project
If you are unsure about what the best materials are for insulating and protecting your residential or commercial undertaking, contact Green Span Profiles Insulated Metal Panel Technologies help you achieve your construction goals. Reach us online or call 844-807-7400 today for a consultation with our design and construction professionals in Waller, TX.