If you want to build your next commercial project to last and be a productive asset, then you must not just meet local and state building codes, but you need to exceed them.
Granted building codes are extremely important because they are the standard your project must meet to gain a certificate of occupancy that will allow commercial tenants to occupy the building.
"In order to obtain a certificate of occupancy, your property must pass a series of inspections. These inspections may include a plumbing inspection, an electrical inspection, a fire safety inspection and a general building inspection," writes Erin Eberlin for The Balance: Small Business.
These inspections will be making sure your commercial project meets local and state codes, but building codes are often outdated, and are meant to be a minimum standard that often does not address the latest technological advances in building.
"Normally, there is a gap between building code requirements and the latest technologies available," writes Michael Tobias, founder-principal of Nearby Engineers. "If developers aim for the highest performance level that meets their budget, the long-term ownership costs of buildings can be drastically reduced. There is also an opportunity to improve human factors such as comfort, air quality and fire safety."
Benefits of Exceeding the Building Code
Tobias says there are some clear-cut benefits to exceeding building codes when designing and building your commercial project.
"Building codes specify the minimum requirements to proceed legally with a construction or renovation project," writes Tobias. "However, several aspects of building performance can be improved beyond the baseline established in codes."
Benefits of exceeding the building code, according to Tobias, include: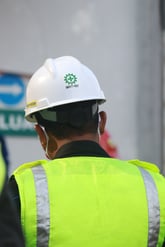 Energy Efficiency and Water Conservation: An energy-efficient building beyond code can lower operating costs for a commercial building. Lighting, ventilation, and air conditioning can have the largest electrical loads. Plug loads can also consume a significant amount of energy. Heating and hot water can consume the most fuel in commercial projects. A focus on water conservation can also reduce building ownership costs. Emerging technology that addressees' energy efficiency will exceed performance levels specified in building code. These upgrades will add value to your commercial property.
Improving Fire Safety: Added fire safety matters beyond building code can not only enhance the safety of your building and its occupants but can lead to better insurance rates. Automatic sprinklers, for example, may not be required by your local building code for the type of building you are constructing, but they can protect your investment by ensuring that small fires do not become catastrophic.
Improving Indoor Air Quality: This topic is both a comfort concern and a health issue, especially considering the current COVID-19 pandemic. A well-designed HVAC system will both reduce energy expenses while preventing the circulation of harmful air pollutants. Demand controlled ventilation systems can help occupants address their cooling and heating needs by activity.
"R" You Ready to Talk About Insulation
A concrete example of exceeding building code when constructing a commercial building can be found in installation of the walls and roofs of your project.
As measured by R-values – essentially the insulation materials ability to resist heat flow with the higher the number the more effective the material is at insulating the structure – different states have different standards.
In Texas, the minimum insulation R-value requirements for non-residential, above roof deck, are R-25 and R-30, depending on what climate zone the structure is being built in.
Commercial builders using Green Span Profiles insulated metal wall and roof panels, could choose from three panels of thickness that would exceed the minimum as tested at both 75 degrees mean and 35 degrees mean:
4-inch: 29.65 R-value at 75 degrees; 31.85 R-Value at 35 degrees.
5-inch: 36.85 R-value at 75 degrees; 39.60 R-Value at 35 degrees.
6-inch: 44.05 R-value at 75 degrees; 47.35 R-Value at 35 degrees.
Materials that are Hurricane-Proof in Florida and Beyond
When builders use materials that are designed and tested to withstand extreme weather, they can be assured that they will exceed building codes around the country.
Green Span Profiles insulated metal wall and roof panel systems, for example, have received Florida Approval under their strict building codes.
"Due to the preponderance of hurricane activity in Florida, the state felt an overwhelming responsibility to approve all building products utilized within the state. The State of Florida Building Code is one of the strictest in the nation therefore, we believe these certifications are significant achievements," said Brian N. Jaks, P.E., Vice President of Sales and Marketing for Green Span Profiles.
Green Span Profiles' RidgeLine insulated metal roofing panels credentials when it comes to high-wind defense includes UL 580 Class 90 Approval for wind uplift as well as approval for installation over open framing by Florida's building codes, demonstrating compliance with ASTM E 1592, ATM E84 and FM 4471.
When these materials are utilized in less-Hurricane prone regions of the company they will offer protection from the elements that will easily exceed local building codes.
In fact, Green Span Profiles tests its insulated metal panels such as Ridgeline against a battery of tests and standards including:
Environmental Performance: ASTM C518; ASTM E1680; and ASTM E1646.
Foam Core Characteristics: ASTM C273; ASTM D1621; ASTM D1622; ASTM D1623; and ASTM D6226.
Fire Resistance: ASTM E84; and FM 4880.
Impact Resistance: FM 4771; and TAS 201.
Engineering Properties: ASTM E1592; ASTM E72; and FM 4471.
Approvals: Miami-Dade County; State of Florida; and Underwriters Laboratories.
Bond Strength: Fatigue endurance; freeze/heat cycle; humidity endurance; and autoclave.
Contact Green Span Profiles today to find out how our insulated metal roof and wall panels can help your project exceed building code and ensure your project is built to last.