Construction costs may have spiked since the start of the COVID-19 pandemic, with lumber a precious commodity hoarded like gold, but on the commercial building front projects are still getting the greenlight.
Demand for warehouse and cold storage space, driven by consumers' continued e-commerce embrace, and data centers, spurred on by cloud computing and emerging tech needs, has commercial construction projects booming from Indianapolis to Kansas City to Nashville.
"According to May research from Avison Young, industrial development is especially strong in the Midwest, with construction moving at a strong pace even with an increase in the costs of materials," wrote Dan Rafter for commercial real estate news source REjournals. "Construction across many U.S. markets is expected to maintain this pace throughout 2021, as developers try to meet demand from everything from retail fulfillment centers to food-grade cold storage facilities."
Skyrocketing Costs Can Not Ground Commercial Tide
According to the reJournal article, skyrocketing costs on lumber, steel, copper and brass have not slowed down the commercial building pipeline with Avison Young estimating currently 300 million-plus square feet planned across the country.
Associated General Contractors of America estimated that from April 2020 to February 2021 there had been: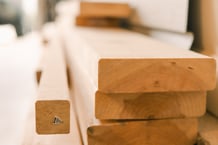 12.8 percent rise in overall construction cost materials.
62 percent rise in lumber and plywood prices.
37 percent rise in copper and brass mill shapes prices.
20 percent rise in steel prices.
Lockdown the Lumber: Prices Soaring
Those lumber prices have continued to soar in most markets since February leading to rising construction costs and a trend towards theft of lumber at construction sites around the U.S.
A Bank of America Global Research Report released in June showed lumber prices spiking this spring, adding $34,000 to the cost of a new house.
"Given the rapid rise in lumber prices," the report says, "the total cost of lumber and manufactured lumber products for an average single family home has soared 184% from April 2020 to April 2021, rising to $48,316."
A Los Angeles Times article says that lumber futures peaked in early May, up more than 300 percent from 12 months earlier. Since then, prices have decreased but are still 200 percent higher than a year ago.
"I don't think that you're going to see this level out for probably 12 to 18 months," Tony Uphoff, CEO of Thomas, a sourcing platform that connects companies with industrial suppliers, told the Los Angeles. Times.
Commercial Construction Relies Less on Lumber than Residential Builders
Despite all the rising construction costs, commercial builders can be thankful that they rely less on lumber than the residential market.
"While commercial construction material costs have risen as well, it's not to the extent that residential construction costs rose due to its heavy reliance on softwood lumber," wrote Kurt Berner, Vice President of Wisconsin-based construction firm The Samuel Group. "For commercial construction, steel prices generally have a greater impact."
The difference between lumber and steel, and even fabricated structural vs. iron and steel can be seen in Associated Builders and Contractors analysis of BLS data for statistics from January 2020 to January 2021:
Softwood lumber: 73 percent price increase
Iron and steel: 15.6 percent price increase
Steel mill products: 7.4 percent price increase
Fabricated structural metal products: 3.2 percent increase
Berner wrote that some of their supplies are indicating that prices for steel should come down in Q3 and Q4 this year.
"While they'll likely still be priced slightly higher than pre-pandemic levels, it will be easier to stomach," wrote Berner.
Commercial Construction Confidence High
The Dodge Momentum Index, a bellwether of commercial construction confidence, was up for the seventh straight month in May.
According to For Construction Pros magazine: "The Momentum Index, issued by Dodge Data & Analytics, is a monthly measure of the first (or initial) report for nonresidential building projects in planning, which have been shown to lead construction spending for nonresidential buildings by a full year."
The latest Momentum Index news includes:
The index moved 9.1 percent higher in May to 178.0 (2000=100), up from the revised April reading of 163.2.
May's jump was the result of a large increase in commercial planning activity, which posted its strongest month-over-month increase since October 2017.
On a year-over-year basis, both commercial and institutional planning were up from May 2020 (38 percent and 47 percent, respectively). The Momentum Index overall was also 41 percent higher than in May 2020.
The price spread has also allowed some commercial projects to consider elements such as architectural-style insulated metal panels as cost-effective solutions.
Other Factors to Weigh in Building Costs
While the spotlight has been on the rising cost of construction materials, Berner in his article "Rising Construction Material Costs – Should I Wait to Build?" points out that other factors are at play when considering shelving projects.
Berner cites labor availability and costs to borrow money as two reasons why commercial construction projects are getting the greenlight:
While a labor shortage in the residential construction market has helped drive up overall costs, the commercial construction market does not face the same severe labor issues with some commercial builders with available workforce ready to ramp up.
Historic low interest rates continue to make it attractive for commercial projects to borrow money to get construction underway.
And in the news is a third reason for not delaying construction:
Rising inflation, which hit 5 percent last month, could make building now a cheaper proposition than waiting. The current inflation rate jump is the biggest in the economy since 2008.
"As you assess your building project, keep these three things in mind: material costs, labor availability, and the cost to borrow money. When considering the entire scope of a project, you'll likely discover that waiting may not be the best option," concludes Berner.
Contact us today to find out how we can help you design your commercial or industrial project.