Horizontal insulated wall panels can offer a more architectural profile for building designers wanting to create sleek and distinctive looks.
While traditional vertical metal panels can suffice for industrial projects, and even many commercial buildings, architectural horizontal insulated metal wall panels can offer dramatic profiles, clean sight lines and beautiful appearance for high-profile projects.
Insulated metal panels or IMPs have long been known for their exceptional insulation, spanning abilities, and cost-effective installation.
"Architects and building owners are taking advantage of IMPs growing architectural options, aesthetics, structural integrity, energy efficiency, lightweight, and low maintenance for a wide variety of projects ranging from corporate settings to sports facilities to educational buildings," says the Metal Construction Association (MCA), IMP Funders Group continuing education course material.
Benefits of Horizontal Insulated Metal Panels
Commercial and industrial building construction utilizing horizontal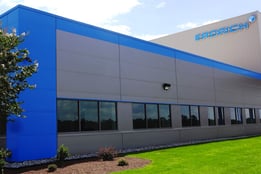 insulated metal panels range from recreational to government buildings to manufacturing facilities.
Benefits of utilizing horizontal insulated metal panels in a project include:
Cost-effective installation with reduced labor costs
Saves project time with faster installation than other materials
Available in custom widths and with pre-formed corners
Interior and exterior wall applications
Lightweight compared to concrete
Appearance can be flat, flush, and monolithic for horizontal architectural applications
Easily integrated with other insulated metal profiles
Unsurpassed thermal efficiency
Popularity of horizontal insulated metal panels is one factor pushing demand for IMPS, according to QY Research "North America Insulated Metal Panels Market Insights, Forecast to 2025" report.
Case Study: Green Span Profiles 42-Inch Horizontal IMPs Help CubeSmart Project Pop
A perfect example of how horizontal insulated metal panels can form the basis of creative design is the CubeSmart storage facility project in Cranston, R.I.
Green Span Profiles WaveLine 42-inch-wide horizontal IMPs were used on the 3-story project for architectural flourish by creating pops of color. The same effect was also applied to an adjacent 1-story building.
In all, some 24,000 square feet of 4-inch Ash Gray panels were used on the 3-story portion, along with 5,000 square feet of 4-inch "CubeSmart Red" panels to create a distinct pattern.
"Lately, people are doing whatever they can to avoid having a big plain-Jane gray building," says Ed McKean, owner of EKM Construction Inc. and the installer on the project. "Staggering the colors in a random pattern is one way of doing just that, that seems to be a new trend. It's not hard, but you have to pay attention when you're installing the panels."
Building with Care When Using Horizontal IMPs
The Metal Construction Association (MCA), in its insulated metal panels installation best practices videos, says care must be used when working with horizontal insulated metal panels.
"You have to make sure you start the building off properly," says the video. "You really need to use a laser to shoot in the base elevations. If you get it wrong, you will play heck trying to get it caught up."
As McKean on the CubeSmart project said, attention to detail is needed when working with IMPs.
Framed openings, for windows, and penetrations, for fiber optic cables for example, can be executed but care must be taken, and proper sealants used to prevent water issues.
Framing Alignment Key to Success or Failure
The MCA says framing alignment "can do a lot to create success or failure of a project."
IMPs must have good alignment to achieve proper installation.
"Get with the general contractor if the steel is not part of your scope, and make sure you hammer home that the success of the installation is really going to depend a lot on the steel," says the MCA installation best practices video.
Another issue to keep an eye on when working on multi-story projects is to make sure that the wall supports, and the floor system does not transfer loads to the horizontal insulated metal panels that could damage the cladding.
Some projects utilizing horizontal insulated metal panels will use bypass stud or tube steel construction. In bypass framing, often used in curtain-wall construction, the metal studs bypass the floor and hang off the outside edges of the building.
Whatever insulated metal panels profiles you choose, make sure to work closely with your manufacturer which can provide installation guidance.
At Green Span Profiles we are not only the manufacturer of premier IMPs, but we offer services including installer training.
Contact Green Span Profiles today to find out we can help you design your industrial or commercial project with horizontal insulated metal panels.