The construction industry is poised for a bounce back in 2021 and long-term forecasts signal solid growth in the years to come. While the near-term will be driven by responses to the COVID-19 pandemic, construction's future will be shaped by evolving concepts of sustainability, resiliency, and industrialized construction.
Associated Builders and Contractors chief economist, Anirban Basu, said in his year-end webinar: "My expectation is that the U.S. economy will shrink between 4 percent and 5 percent in 2020, but we're going to come back hard in 2021."
Joe Bousquin writing in Construction Drive says pandemic-related issues will be the focus in 2021 such as growth in hot sectors like cold storage, data centers, and warehousing.
Globally, The Business Research Company released the "Buildings Construction Global Market Report 2021: COVID 19 Impact and Recovery to 2030" which forecasts CAGR of 9.8 percent this year to $6.5 trillion with a CAGR of 8 percent to 2025 for $8.8 trillion.
While Sustainability has been a buzz word for years, Grace Ellis in the Digital Builder: Your Daily Construction argues that it will be emerging sustainability applications that will help make it a pillar of the construction industry's future.
Ellis specifically says to watch for:
Reimagining of sustainability.
Innovating for resiliency.
Scheduling certainty with industrialized construction.
Sustainability Leads the Green Movement
The poster child in reimagining sustainability is the Kendeda Building for Innovative Sustainable Design project on Georgia Tech's Atlanta campus.
This net-positive facility, with 37,000-square feet indoors and another 10,000 square feet outdoors, is pursuing full certification from the Living Building Challenge.
"It's a regenerative building that seeks to have positive environmental and social impacts," said building director Shan Arora.
Among the innovative sustainable features in the building:
It produces more on-site electricity each year than it consumes.
Reduces stormwater water runoff, negating impacts on downstream communities and reuses the captured rainwater.
Toilet waste is managed on-site and is not connected to sewers.
TDuring construction more waste was diverted from landfills than was sent to landfills.
While Living Building Challenge certified buildings in the past have been in areas more hospitable to the design elements -- such as California (Silver Oak Cellars, Alexander Valley), Northwest (Bullitt Center, Seattle) or the Northeast (RW Kern Center, Hampshire College, Mass.) – the Georgia project proved it can be done in the hot and humid south.
The Living Building Challenge program says, "the implementation of this standard requires leading-edge technical knowledge, an integrated design approach, and design and construction teams wells versed in advanced practices related to green building."
Climate Change Requires Resiliency
It is one thing to construct a sustainable building, but it can be an entirely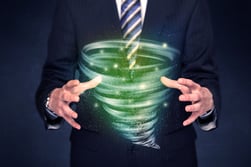 different story to construct a resilient building that can withstand the effects of climate change.
In 2020 alone, the following extreme weather events took place:
"We need another dictionary to help us describe how these extremes continue to play out and unfold year after year," said Adam Smith, climate scientist with the National Oceanic and Atmospheric Administration.
Ellis in her Digital Builder blog writes that "in the future of construction, we'll see teams take a bigger role in helping solve climate-related issues and build resiliency."
Designers need to calculate resistance to hurricanes, tornadoes, wildfires, and other weather-related issues into their build strategies.
Materials, such as insulated metal roof panels, can be used as front-line defense in hurricanes and other extreme weather.
Modular Could be the New Modern
Industrialized construction, where not all the construction is done on site, not only allows for a project to be scheduled with more certainty but can eliminate waste by cutting down overages and scrap.
Structural components are manufactured in a workshop or controlled environment, transported to the build site, and assembled there.
Industrialized construction can take different forms such as prefabricated off-site construction or module building systems:
Prefabricated off-site construction: Components are built in sections and then delivered to the job site when needed for assembly.
Module building systems: manufactured room modules are built off-site and then delivered to the construction site.
Think of module building systems as fitting Lego blocks together to design a building with some of the modules even coming with wiring and fixtures pre-fitted.
It might be helpful to substitute the term "panelized construction" for "prefab". Panelized construction refers to off-site fabrication of roof, wall, and floor assemblies, which are then brought to the construction site and put in place.
Metal Architecture in January estimated that the size of the panelized and modular construction market could be nearly $200 billion by 2030.
COVID-19 has sped up the move to industrialized construction with shipping container classrooms and prefab bathrooms becoming popular for school construction during the pandemic.
Contact Green Span Profiles today to find out how our high-quality insulated metal panels can meet the sustainability and resiliency needs of your commercial or industrial projects.